Molten Metal Splash Garments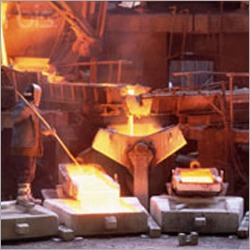 Molten Metal Splash Garments
Product Description
Taking the advantage of our sophisticated infrastructure facilities, we are manufacturing and exporting an appreciable range of Molten Metal Splash Garments. Made from MetalPro and MetalPro Plus fabrics, these garments protect employee from molten metal splash such as aluminum and iron. Our Molten Metal Splash Garments are appreciated among our clients for their attributes like heat & flame resistance, comfortable and longer service life. Furthermore, we offer these garments in quality packaging to ensure safe and secure delivery at client's premise.
Features:
Maximum protection
Comfortable
Water and fire resistant
Light weight
Perfect finish
Further Details:
Our Molten Metal Splash Garments are uniquely designed to provide complete protection from continuous exposure to splashed and sparks.
The metal protection garments are highly capable to withstand the splash of molten metals like iron, aluminum, and more. Highly advanced fabrics such as

MetalPro Plus and MetalPro are used in the manufacturing of our splash garments. These fabrics enhance the wear life of the garment and provide comfort and ultimate protection to the user.

Lightweight, soft in feel fabrics used in our metal splash garments are developed to offer protection against radiant heat, molten metal splash, smelting risks and harmful flame.
The fabrics resist molten metal splashes, even when they occur repeatedly in the same area.
Quality tested fabrics effectively resist the continuous occurrence of metal splash in the very spot.
Features:
The offered Molten Metal Splash Garments are ideal for those who work in hot metal environment for day long. Users of our metal protective garments get safety from even the hottest conditions with total comfort and no harm to their health.
Flexibility:
Our molten metal protective cloths are developed considering the working environment of the potential users. By wearing our garments, users can make quick and free movements to work comfortably with enhanced productivity. The offered metal protective garments keep user's body cool even in the hottest working conditions.
Value:
We design, develop and manufacture our fire safety garments considering the value of money that clients expect. In our efforts to keep the price of our garments to a low, we have never compromised with their quality & reliability to provide complete safety to the user. Our garments are not as cheap as an oven mitt, but, the money spent in purchasing them becomes an investment for a very long future due to their extreme durability. It would be a wise decision to openly choose our quality products that can reliably protect from harsh working environment.