Molten Metal Splash Dresses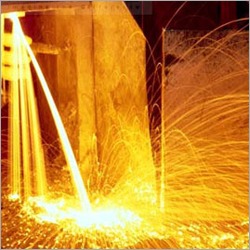 Molten Metal Splash Dresses
Product Description
Capitalizing on our talented workforce and sound amenities, we are acknowledged as a pioneer manufacturer and supplier of a superior range of Molten Metal Splash Dresses. These dresses protect employ against molten metal splash, radiant heat, flame and other smelting hazards in various industries including metal processing, chemical, coal and furnace. Our Molten Metal Splash Dresses are made by a team of skilled professionals using optimum grade MetalPro and MetalPro Plus fabrics, following the norms and guidelines laid down by the industry. We offer these dresses at a nominal price.
Features:
Maximum comfort
Easy to wash
Fire and water resistance
Durable
Perfect finish
Further Details:
The offered Molten Splash Dresses have a huge demand for their effective usage in the areas that are continuously exposed to splashes and sparks. These provide complete protection from the harmful splash of molten metal such as iron, aluminum, and more. Grade fabrics, developed after thorough research, are used in the manufacturing of our dresses. Our molten Splash Dresses are developed to provide optimum comfort along with rigid protection during their long service life. The fabrics resist molten metal splashes, even when they occur repeatedly in the same area.
Features:
People who work with hot molten metals for the whole day get protection by our unparalleled quality metal protective dresses. The offered dresses are totally efficient in maintaining the body temperature even in the hottest working conditions.
Flexibility:
Our Molten Metal Splash Clothing offer extreme flexibility which helps the user to easily move his body parts to work productively. Innovative fabrics used in the making of our products keep the body cool during working in a spark and splash common environment.
Value:
Our dresses are designed and developed after conducting extensive researches in the field of fire protection. Use of latest technology has helped us in keeping the prices of our products at an affordable level. Money spent on our metal splash protection dresses is a one time investment that lasts for a long period of time. By investing our dresses, clients invest in their safety, health and comfortable working.
Good fit:
Accuracy in size and fitting of a dress for work is the most important thing. Our Metal Splash Dresses are designed after analyzing and following the body movement requirements of the user. This helps us in delivering comfortable and flexible work dresses that allow the user to perform in the best manner.