Molten Metal Splash Clothing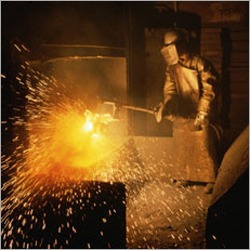 Molten Metal Splash Clothing
Product Description
Our company has emerged with its devotion & obligation to manufacture and supply an unmatched range of Molten Metal Splash Clothing. These clothing are used by employ working in metal processing and furnance industries for protecting themselves form metal sparks and splashes. In order to manufacture and design high quality Molten Metal Splash Clothing, our professionals employ advanced machines and utilize quality tested MetalPro and MetalPro Plus fabrics procured from the authentic vendors. Lightweight, excellent metal splash resistance and high tear strength are some of the salient attributes of our clothing.
Features:
Flexible
Flame retardant
Easy to maintain
Soft and light weight
Waterproof
Further Details:
Our Molten Metal Splash Clothing protects user from the molten splash of metals having extreme melting points.
With our years of research and experiments, we have developed fabrics like Nomax Metalpro and Nomax Metalpro Plus, which are used in our clothing to attain inflexible safety, improved durability and optimum comfort.
Offering protection against beaming heat, fire, liquified metal splatter, etc., our Molten Metal Splash protective clothing also provide comfort owing to their soft and lightweight fabric.
The repeated splatter of meted metal in the same place is effectively resisted by our superior quality garments.
Features:
Our innovative hot metal splash protective clothing are made for the people who work with extremely hot metals for the entire day. These are designed in a manner to provide overall protection from high level of temperature and ensure health safety.
Flexibility:
Quick and comfortable movement is the most sought after feature of an ideal liquified metal splash safety clothing. Our offered garments surely provide free movements to the user and increase their productivity. Further, these garments are also highly effective in maintaining the body temperature of the user during their working in extreme temperature locations.
Value:
When we were developing our molten metal protection apparels, we were developing a cost effective solution that would put very less weight on pocket and would unburden the user from any troubling thoughts of safety. Considering the quality and durability of our safety apparels, money spent on them are a long time investment for our esteemed clients. Further, safety of our clients is the first priority to us, thus, we never lower the quality of our clothing. By investing in our products, clients invest into their own protection and career.
Good fit:
Prerequisites of a workplace apparel are perfect fitting and extreme comfort. There is no such problems like unappropriated fit and uncomfortable wearing experience with our wide range of metal protective clothing. Our exceptional quality apparels come in various sizes for men and women to provide complete molten metal protection and deliver unmatched comfort that can not be achieved by wearing any other apparels.
Contact Us
220-221, Shanti Industrial Estate, S.N. Road, Mulund (W),, Mumbai, Maharashtra, 400080, India
Phone :+918045477772