Fire Suits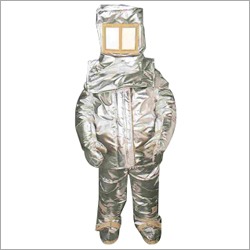 Fire Suits
Product Description
We are an eminent company engaged in manufacturing and exporting an exceptional range of Fire Suits. For optimum fire safety these suits are build in with 8 layers of insulation and are offered with insulated hood, mitts, boots, and soles. Efficiently protects fire fighters from fire during rescue operations, our Fire Suits are uniquely designed to ensure characteristics like fire & heat resistance, lightweight and skin-friendliness. Furthermore, our fire suits are used in the mining and construction sites to protect workers from excessive heat and fire.
Fire Suits provide optimum safety from fire in various areas like steel mills, smelting facilities, construction sites, firefighting and so on. These are available in various kinds like fire proximity entry. They have a hood / helmet cover with neck shroud, also, jacket and pants complete with vapor barrier & insulated liner in it, aluminized gloves and boots. The Fire Suits are made of imported aluminized glass fiber texture with double mirror having 90% impression of warmth as an external layer and with woolen texture lining. These are well known for features like highly skin friendly fabric, light weight and heat & fire resistance.

Further Details:
Fire Entry Suits are designed for maximum personnel fire protection. They can be worn in preparation for possible fire eruption or for stand-by operations should a rescue or evasive action require passage through a fire zone.
Specification:-
Suit made of multiple layers for maximum heat protection. Breathing apparatus required.
Suit consist of :-
HOOD: Designed to be used with air mask. Inner drape flame seals. Underarm adjustment straps. Built in shell for structural support. Hard cap with ratchet headgear. Speedy clip for hard cap support. Hardened aluminum window frame with 2 tempered glass lenses plus 2 gold plated Lenses for thermal protection.
COAT: Designed to be worn with breathing apparatus. Double storm fly
Front. Flame seal with drawstring at coat bottom.
PANT: High waist design. 2 inch wide adjustable suspenders. Adjustable Straps on leg bottoms.
BOOTS: Designed to fir over work shoes. Rear entry with overlap snap closure and adjustable take-up straps. Insulated wire reinforced sole of flame resistant neoprene fiberglass riveted to boot cover. All straps and bindings are Zetex Plus.
MITTS: Heavy weight construction made with Aluminised Zetex Plus fabric.
WEIGHT: weight of complete suit will be approximately 25 kgs.
Certifications
Made from Zetex and Zetex Plus fabrics, which meet UL 214/NFPA 701, MIL-C-20079, MIL-I-24244, NRC 1.36, and European EN407.