Fire Proximity Suit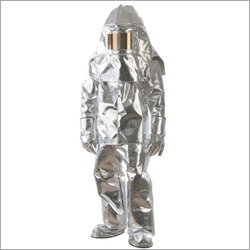 Fire Proximity Suit
Product Description
Fire Proximity Suit
We have attained and maintained our reputation in the market by manufacturing and supplying a qualitative range of Fire Proximity Suit. These suits are used by personal working in hazardous industrial conditions like petrochemical plants, foundries, steel, chemicals, ceramics & defence. These suits are capable of sustaining intense heat, fire and hot liquid very efficiently, thus used by fire fighters for rescuing purpose. Made and designed using premium grade aluminized glass fibre fabric and woolen fabric, our Fire Proximity Suit is well known for their negligible maintenance, fire & heat resistance and optimum service life.
Features:
Flame retardant
Easy to maintain
Long lasting
Comfortable
Further Details:
Our Proximity Suit are manufactured from imported aluminized fiber glass fabric that reflect around 90% of heat by its dual mirror woolen fabric lining. For complete protection from high temperature conditions, an additional layer of vapor barrier is included in our suits. The fabrics used in the making of our products are duly tested and approved by the major fire research and defense institutions of India.

Variants :
| | | | | |
| --- | --- | --- | --- | --- |
| LAYERS | Outer Layer | Middle Layer | Inner Layer | Innermost Layer |
| 2 Layer | Aluminised | NA | NA | Woolen |
| 3 Layer | Aluminised | Vapour Barrier | NA | Woolen |
| 4 Layer | Aluminised | Vapour Barrier | Thermal Barrier | Flame Retardant Cotton |
Complete Suit consists of the following:-
Overall:

Overall set of our Proximity Suit includes one piece of suit or two pieces of trouser and jacket with stud fastener, zipper and optional pouch on the back for the purpose of carrying breathing apparatus

Hood:
IS-2745 standard helmet is included in the hood section of the offered suit. There are two elastic straps attached to effectively cover below the shoulder. It also has a tinted poly carbonate visor with curved plain and thin transparent mica outer layer.
Gloves:
Our suits have 14" long five fingered gloves comprising a stud fastener for providing perfect grip to the wrist.
Boots:
Boots of our Proximity Suit are designed with upper layer of aluminized glass fiber and premium grade leather inner lining. Aluminized fabric flap is used to cover heavy duty zipper to offer double protection. Sole is made from neoprene rubber with non skid property to work in chemical, grease or oil area.
Application:
Our Proximity suits have a huge demand in rescue operations conducted in steam, high heat, fire affected areas that can likely occur in foundries, steel, ceramics, glass, plants, petrochemical and defense industries.
Contact Us
220-221, Shanti Industrial Estate, S.N. Road, Mulund (W),, Mumbai, Maharashtra, 400080, India
Phone :+918045477772