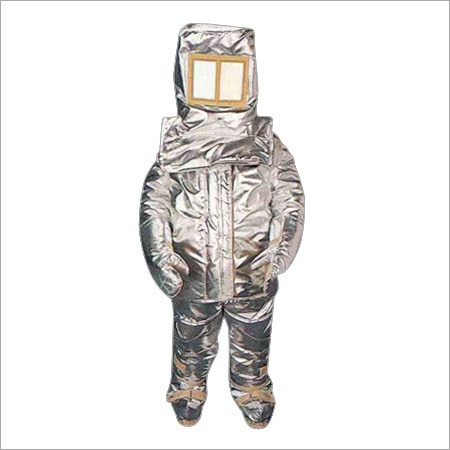 Fire Entry Suit
Product Description
Ever since the inception of our company, we have emerged as a renowned manufacturer and exporter of an appreciable range of Fire Entry Suit. Attached with fully insulated hood, mitts, boots, and soles, these suits are perfect for maximum personal fire protection in adverse working condition. Owing to attributes like flame resistance, light weight and excellent insulation, our 3000 Series Fire Entry Suits are widely used by workers in different industries including mining, coal and construction. In order to manufacture these suits we use premium grade materials and fabrics as per the international quality of standards and norms.
Further Details:
Fire Entry Suit - By NEWTEX Inc, USA
The offered 3000 Series Fire Entry Suits, designed by Newtex, are highly reliable in providing superior fire protection. These can be used as a clothing in the event of stand-by operations, passage through fire zone, possible fire incidents, evasive or rescue operations, etc. Carefully engineered, our fire suits have 8 insulation layers to resist the most intense fire conditions. All their parts like mitts, hood, soles, boots, etc., are properly insulated to provide complete fire protection. Aluminized zetex made outer shell of our 3000 series suits offers protection from harmful 3000°F (1650°C) of radiant heat.
With 7 additional insulation layers, around 90% of radiant heat is reflected by our suits to provide ultimate protection from fire and heat. Their well insulated boot sole helps in easy passage to the fire influenced area. Our fire entry suits are made from inorganic materials that match all the standards defined for fire & safety products.
Fire Entry Suit
These extremely insulated fire entry suits are particularly designed for use in harsh fire conditions in airports, oil & gas corporations and various other sites where contact temperature can burst up to 20000°F (11094°C)

Properties

Aluminium ZETEX outer fabric for excellent radiant heat protection
7 layers of inner insulation for maximum protection
Boot sole made from 2 x 1" insulation, FR cotton lining, aluminium foil & insulated wire-reinforced sole of neoprene fiberglass riveted to boot cover.
Design for :

8150C short Ambient Heat
10930C Total Flame
16500C Radiant Heat

Breathing Apparatus set is required.
One size fits all.
Description

Hood : Designed for use with air mask with inner drape seals and under arm adjustment strap. Built-in-shell for structural support complete with hard cap and ratchet adjustment. There is a speedy clip support. Hardened aluminium window frame with 2 tempered glass lens and 2 gold plated lenses for thermal protection.
Coat : Double storm fly front. Flame seal with drawstring at coat bottom.
Pants : High Waist design with 2" wide adjustable suspenders and adjustable straps on leg bottoms.
Boots : Designed to fit over work shoes. Rear entry with overlap snap enclosure and adjustable take-up straps. All straps and bindings are made from ZETEX Plus.
Mitts : Heavy construction made with ZETEX Plus fabric and Aluminized outer layer
Dimension

Foot Locker Box : 34" x 19 " X 21", 27.3 lbs (12.4 kg)
Weight of suit : 62.7 lbs (28.4 kg).
2000 Series Fire Entry suit
The 2000 Series Fire Entry Suit is a highly insulated suit designed for entry into extreme fires in Oil & Gas, Airports and other installations where contact temperature can reach up to 20000F (10930C).
Contact Us
220-221, Shanti Industrial Estate, S.N. Road, Mulund (W),, Mumbai, Maharashtra, 400080, India
Phone :+918045477772