Aluminized Fire Suit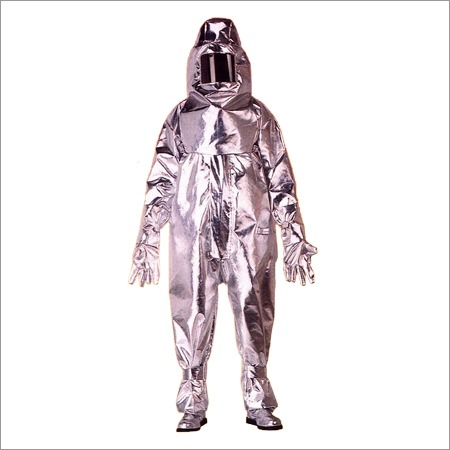 Aluminized Fire Suit
Product Description
Maintaining our position as the quality- centric organization, we are instrumental in manufacturing and exporting a remarkable range of Aluminized Fire Suit. Our suits can resist temperature upto 700oC to 900oC, thus used by personal working in refineries, petrochemical plants, foundries, casting plant, steel, glass, ceramic industries and defence in order to defend themselves from fire and heat. Our Aluminized Fire Suit is made and designed at our ultramodern machining unit by using premium grade aluminum and latest technology. Owing to attributes like heat & fire resistance, lightweight and fine finishes, these suits are exported to various international markets including Kuwait, Qatar, Saudi Arabiaand U.A.E.
Further Details:

Fire Proximity Suit is made out of 16 oz imported aluminised glass fiber fabric with dual mirror having 90% reflection of heat as a outer layer and with woolen fabric lining. Additional layer (VApour Barrier) is alos used for higher temperature. Outer fabric is tested and approved by Defence Institute for Fire Research- New Delhi & field tess performed by Defence- Indian Navy NBCD School. INS Shivaji. Lonavala- Maharashtra.
Complete suit consists of the following Overall :

An overall is one piece suit or 2 pc. Jacket & trouser having Zipper & stud fastener with or without pouch on back to accomodate breathing apparatus. Stitching is done by 'KEVLAE' Threads.
Hood :

It houses a fiber glass helmet for fireman as per IS- 2745. Two elasticized straps to cover well below the shoulders. Hood has the visor consisting of curved plain and tinted poly carbonate & outer layer of thin transparent mica.
Gloves :

14" long fie fingered type Gloves having stud fastner for better securing at wrist.
Boots :

Boots are made of upper layer of aluminised glass fiber fabric & inner lining of good quality leather, with heavy duty zipper covered with aluminised fabric flap with extra stud for double protection. Special Neoprene Rubber sole in non skid pattern for use in oil/chemical/ grease area. Metal toe for extra air- room & protection.